A moment of historic change is a time of cultural discovery for Chapman students and professors.
The grandparents of Pablo Cueto '16 didn't want him setting foot on Cuban soil – not after the communist revolution swallowed up all that the family had built, forcing them to flee their home and start over from scratch in the United States. Even after half a century, the wounds remain fresh.
But Cueto, a double major in Spanish and strategic and corporate communications at Chapman University, longed to meet the Cuban people and see for himself the homeland of his ancestors.
"The trip opened my eyes to the greatness of the culture and the people," he said.
At this time of change in the longstanding stalemate between two nations separated by just 90 miles of ocean, Cueto isn't alone in his fascination.
Two classes full of Chapman students recently explored Cuba during winter Interterm, visiting just after President Obama and Cuban President Raul Castro announced plans to restore diplomatic relations, opening the door to the first significant easing of U.S. sanctions in more than 50 years.
Though the bulk of the U.S. travel and trade embargo is still in place, the Chapman scholars say that they sensed a heightened optimism among many everyday Cubans that increased ties with the United States will boost their prospects. And the prevailing opinion among those just returning from Interterm study is that the days of such a tightly controlled command economy in Cuba are now numbered.
Cueto, for one, is extremely pleased that he made the journey.
"I didn't expect that my perspective on the (Cuban) government would change, and it didn't – it's still negative," Cueto said. "But I couldn't help but think, 'This is where I come from.' The connection became even more important to me. It gave me hope that an easing of the embargo may improve the lives of the people."
U.S. POLICY CHANGES

Obama Administration measures to ease sanctions against Cuba:

+ Allow for increased trade in agriculture and telecommunications. + Enable more visits by Americans, although still not as tourists. + Raise the amount that Americans can send to relatives in Cuba from $2,000 to $8,000 per year. + Permit U.S. companies to issue credit and debit cards for use in Cuba. + Allow travelers to bring back up to $400 in goods, including $100 worth of cigars.
In Cuba, Cueto and his classmates studied the impact of strategic communications under a communist system. The Wilkinson College class, taught by adjunct faculty member Michael D. Ross and Professor Lisa Sparks, Ph.D., took the visitors to bustling cities and sleepy villages, to schools and health clinics, to the U.S. Interests Section (formerly the U.S. Embassy) in Havana and to meet with Cubans who "really shed light on the realities of Cuba's history and the oppressive nature of the government," Sparks said.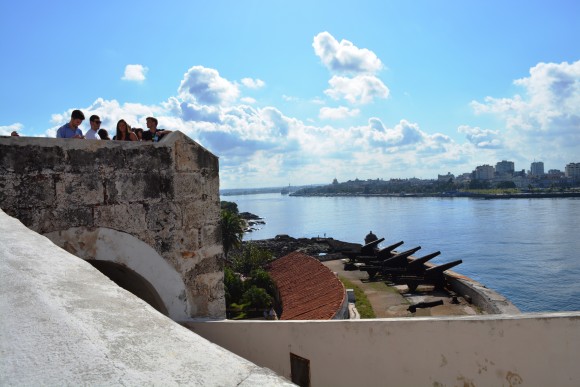 In their travels, the students crossed paths with members of the other Cuba-bound Chapman class, led by documentary film professor Jeff Swimmer and adjunct faculty colleague Mel Metcalfe. Their Dodge College students also explored widely, producing short films on subjects such as a thriving Jewish community, changes at the University of Havana, dynamism in the local visual arts scene, and the Cuban version of cocktail tourism.
It was Swimmer's second consecutive winter Interterm in Cuba, and this time he saw significant changes. Instead of being limited to government hotels and restaurants, class members were able to stay in some private homes and eat in
paladares
, or family-run eateries, where the service and cuisine were noticeably better, he said.
The general atmosphere in public spaces and attitudes of Cubans on the street were also upgraded from a year ago. "There's still anxiety about the future, but also an excitement – almost a giddiness," he said.
THE TIES THAT BIND AND DIVIDE

Historical links and political differences ensure that the question of what to do about Cuba still stirs passions in the United States.

Despite Obama Administration steps to normalize relations, a Republican-controlled Congress isn't likely to lift the decades-old trade embargo anytime soon, said James Coyle, Ph.D., director of global education at Chapman.

"As long as the Castro brothers are there, I don't think we will see any changes in laws," he said. "Cuba is in a very vulnerable position. The last few years it has been kept afloat by Venezuelan oil money, and now with oil at around $50 a barrel, vs. $140, Cuba is in trouble. The government is going to be much more willing to look at alternatives."

But while some in Congress may see an opportunity to continue applying pressure while the U.S. has Cuba over a barrel, American agricultural interests are also pushing to open a new market. A younger generation of Cuban-Americans is likely to welcome that opening, said Sandra Alvarez, Ph.D., assistant professor of political science at Chapman.

"(President) Raul Castro already is opening new possibilities in the economy, including opportunities to start small businesses," said Alvarez, whose research focuses on Latin America. "We're also seeing an underground economy develop."

Coyle and Alvarez agree that the most impactful step taken by the Obama Administration is likely to be the one raising remittance levels. Americans now can send as much as $8,000 a year to relatives in Cuba, vs. the previous limit of $2,000.

"It will stimulate the economy and increase well-being on the island," Coyle said.
"Before it felt like you were going to a place that was near the end of an era politically," Swimmer added. "This time it felt like you were in the middle of a place in fast-motion political flux."
Class member Mor Albalak '15, a double major in political science and TV broadcast journalism with an emphasis in documentary film, said she was struck by the many contrasts of Cuba.
"You see some buildings that are crumbling, but there's also a deep beauty in the culture, and a positive spirit persists," said Albalak, whose film project profiles three visual artists. "There are dark undertones even as you meet people who are so full of light."
Swimmer's memory of the trip is also full of jarring juxtapositions. Amid friendly greetings by locals, he and the students went to the Bay of Pigs and toured the
Museo Giron
, a museum dedicated to the failed CIA-sponsored attempt to overthrow the new communist government in 1961. There they saw captured U.S. weapons and tank parts as well as "cartoonish" propaganda "that has to go through the motions of demonizing the U.S. as the enemy," Swimmer said. "It's like it was impossible for the caption writer to write 'American' without pairing it with 'Imperialist.'"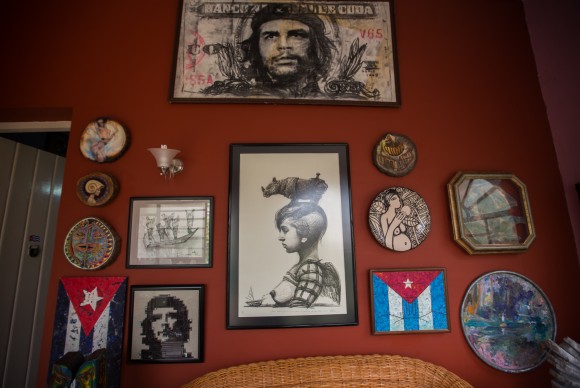 An hour earlier, class members had snorkeled in the clear, warm waters of the very same bay. "In the U.S. imagination, the Bay of Pigs will always be this actual and metaphorical battlefield, but it's also this beautiful tropical paradise," Swimmer said.
During their journey, the professor and his students also came to appreciate Cuba's quirky charms. In the 500-year-old city of Trinidad, where the architecture conjures Old World Spain, Chapman class members stepped into homes that are fancy by Cuban standards. In the master bedroom of one residence, a portrait of Pope Francis graced a wall, while across from it hung a framed photo of the Bee Gees. The bed was draped with a Superman coverlet.
Historic connections, religious identity and kitsch Americana are "all there in one big swirl," Swimmer said.
That vortex of cultural influences also attracted professors Sparks and Ross and their students in Wilkinson College of Humanities and Social Sciences. After on-campus classroom study that covered the history of Cuba and its relations with the U.S., they and their students traveled to the island nation to dive into its many forms of communication, from interpersonal to political to persuasive.
Ross, an entrepreneur with extensive experience in international trade and helping businesses get into new markets, had made five previous trips to the island. Still, he shared his students' enthusiasm for visiting Cuba "during a time of historical importance."
"We all understood the significance of this opportunity," said Sparks, the Foster and Mary McGaw Endowed Professor in Behavioral Sciences at Chapman, where she is also chair of the Department of Communication Studies. "My life changed with my study-abroad experience in college and when I went to the Soviet Union in 1987. I told the students that their lives were going to change with this experience, and I hope that they will be some of the first Chapman ambassadors for the changes that are happening in Cuba."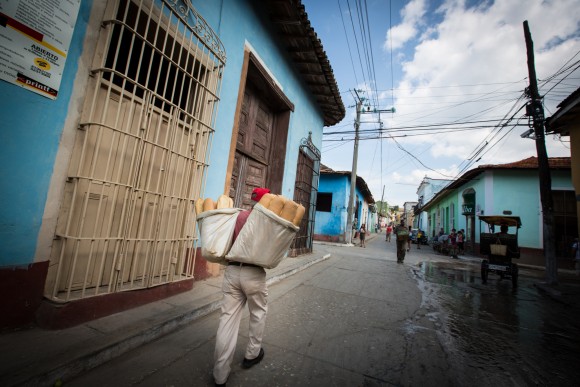 Class exercises were designed to investigate how the everyday experiences of Cuban life are evolving and how they remain unchanged. For one project, students each were handed 20 Cuban pesos – about what a Cuban family has to shop with each week, Ross said – and given 30 minutes to buy groceries in a government store. Then they wrote papers on how they made their choices and what they learned from the experience.
"They found out quickly that the money doesn't go very far," Ross said.
The students connected with Cuban children when they handed out baseball equipment that had been donated by a scout for the Los Angeles Dodgers. The effort was spearheaded by graduate student Scott DeLong (leadership development '15), who played baseball as a college undergrad.
During a rest stop in a village between Havana and Trinidad, the local principal gave the students a tour of the town's tiny schoolhouse, during which they met a 12-year-old boy who loved to play on the adjacent field, even though his only equipment was sticks and rocks. So DeLong fetched some gear from the bus, and an impromptu game of catch led to a hitting session for the boy, who ended up walking away with two balls, a glove and a bat.
"His face lit up," DeLong recalled. "That was a great day."
For the Cuban-American Cueto, the memories are just as vivid. He conversed with Cuban college students and walked the same streets his grandparents had trod more than 50 years before. He toured a building at the University of Havana that was named for his great, great grandfather.
"I was surprised to learn about the prominence of my family's history," he said. "My grandparents didn't really want to talk about that, because they lost everything."
By the time Cueto returned to California, familial opposition to his trip had eased a bit. His grandparents and other relatives were pleased to hear that he had asked tough questions of those who sought to minimize Cuban human-rights transgressions.
"They started to see it like I was speaking for them, in a way," Cueto said of his grandparents. "And when they looked at the pictures, it was like they were looking at Cuba through my eyes."
Though Cueto is grateful that he took the class, and he's eager to see reforms continue for the people of his ancestral homeland, he doesn't think he'll want to return to Cuba for another 20 years or so.
By then, he hopes, he'll be able to tour a transformed nation.
"Nothing," he said, "is going to change overnight."