The coffee bar, relaxed indoor lounge and large patio with picnic tables are not the most high-tech elements of Chapman University's new Digital Media Arts Center. But without them, the creative work happening in the state of the art facility might not be the same, says Bill Kroyer, professor and director of the Digital Arts Program at Dodge College of Film and Media Arts.
"If you go to Pixar, Disney, Microsoft or Google or any state of the art facilities, you'll see hangout space," Kroyer says. "Kids from every program and school on campus can come over and hang out and meet other kids and start conversations and see what other kids are working on. And that's the way ideas happen."
The new center opened for classes this fall and is located on Cypress Street, across from the Dodge College's Marion Knott Studios. The project also includes a new 357-space parking structure, fronted by the original brick façade of the former industrial plant on the site. Natural light from the old warehouse windows flood the open-design common areas and lounges. Students are invited to sketch and brainstorm directly onto several washable wall surfaces throughout.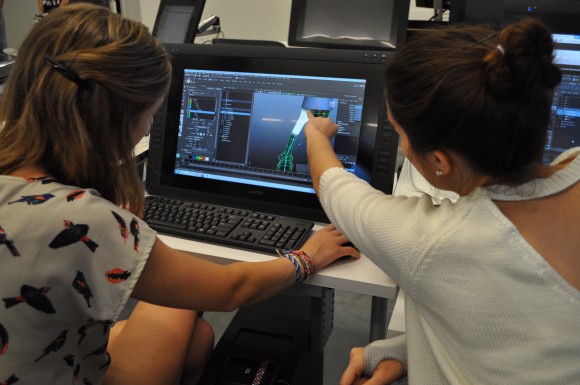 Along with the creative environment are state-of-the-art animation labs equipped with desks and computers that let students move between hand-drawn and digital animation while remaining in the same seat. An art classroom furnished with drawing benches is dedicated to sketching and life drawing, which are still foundational skills for digital animators,
Kroyer  says.
The screening theatre features a 4k stereoscopic projection system and sofa-style seating with plug-in jacks for interactive multi-player gaming.
Such a facility equips students with the training demanded by a growing industry, Kroyer says. Animated and high-action special-effects films make up 85 percent of box offices sales. Gaming, Web-design and handheld media industries are equally hungry for digital artists.
"The digital arts are really an exploding industry," he says. "To really teach that properly, you need a facility dedicated to that."