He brings memories of bullets hissing past his head. Pride in duty served on a battlefield 8,000 miles from home. The name of a fallen buddy etched onto a bracelet he wears every day.
They're not the typical stories and keepsakes a student carries off to college. But Timoteo Orendain '14 is not a typical student. Orendain is a retired U.S. Marine Corps staff sergeant and a veteran of the Afghanistan war. And thanks to the G.I. Bill and scholarship support, he will graduate this month with a degree in screenwriting from Chapman University's Dodge College of Film and Media Arts.
So at the moment he is consumed with the classic stuff of senior year – fretting about finals week, polishing his senior project and scheduling job interviews.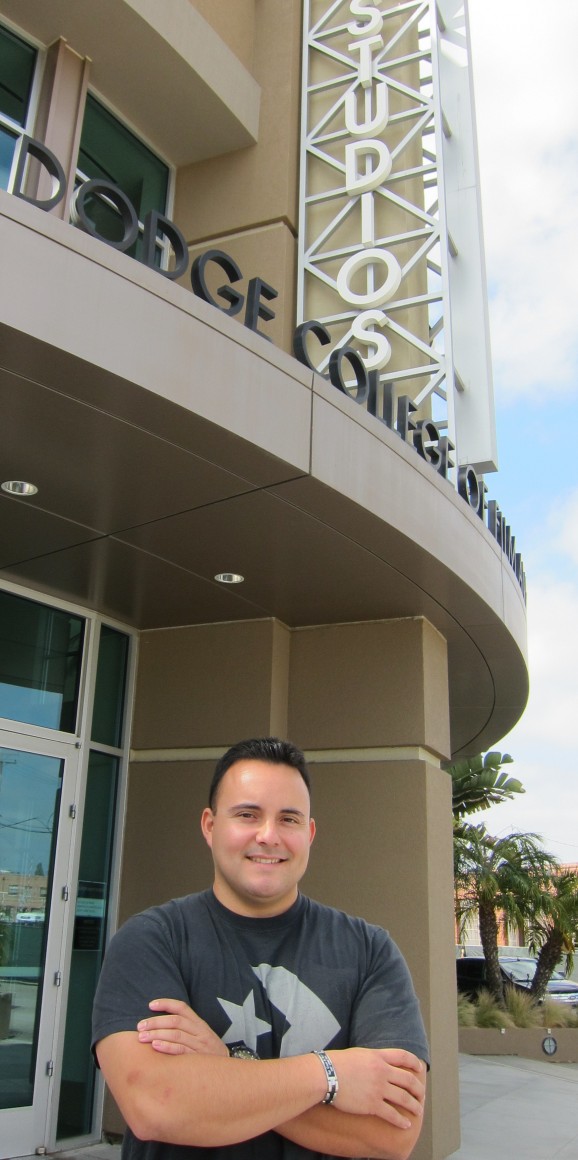 "It's really busy," Orendain says with a boyish grin that belies his 28 years and experience.
But that other life he lived four years ago during the surge into Afghanistan is never far from his thoughts or the computer where he writes the military dramas on which he hopes to build his filmmaking career.
"It's just deeply rooted in me," he says. "My boots have been in those sands. I understand the relationships, the values and how that plays into the military life. I can put that into my scripts and that makes them believable."
And it makes Orendain hirable, says Professor Harry Ufland, one of Orendain's mentors at Dodge College of Film and Media Arts.
"He writes extremely well," Ufland says. Combined with his ability to "take direction and work well with a chain of people" Ufland predicts the job offers will flow. "Everything about the Marines helps and that's why so many people are interested in him."
Hard to believe is that Orendain basically stumbled into this career path. As he stepped off a bus along with other Marines returning home, representatives from the Writers Guild of America were there offering interested veterans a spot in their Veterans Writering Project. Orendain jumped at the chance. The only writing he'd ever done was in a small journal, but by the end of the weekend workshop he had a story he recalls as "a grotesque drama."
Someone saw something in it, though.
"Oliver Stone came to the workshop and read our work. He told me mine was good," Orendain says.
That was enough for Orendain to shelve his plan to study business, enroll at Rio Hondo Community College in Whittier, Calif., and set his sights on transferring to Chapman's film school. Along the way he also discovered that writing was more than a means to a career. In tandem with the counseling available through Veterans Affairs, Orendain turned to writing for therapy.
"I had a lot of things in my head," he says.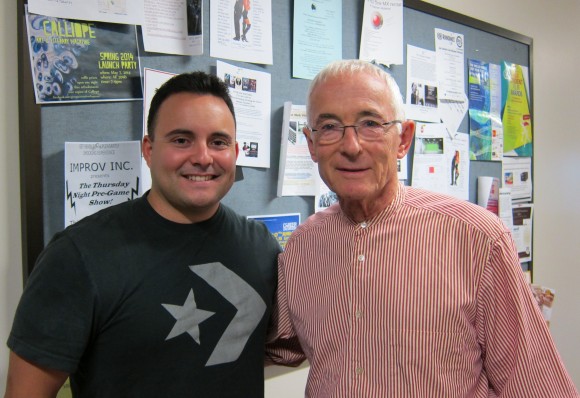 Indeed. In Afghanistan he was part of the surge into Marjah, put in charge of a security platoon that cleared the roads and neighborhoods the Marines needed to enter the Taliban stronghold. He battled daily firefights for two straight weeks. He remembers the first time he was shot at as "surreal," hearing the zip of the bullets and seeing the puffs of dust they kicked up as they landed near his feet. Entering homes, ever mindful of hidden explosives, was the hardest.
"That was the scariest thing I've ever had to do," he says.
Then a Red Cross message arrived with word that his mother was gravely ill with cancer and he was sent home early.
"They had to go through the rest of that without me," he says.
There were casualties after he left. He'll never know how things might have been different if he'd been there, but he says he would have put his all into trying to bring everyone home.
"I was good at what I did. If there was a choice between me and someone else to go through that? Instead of another Marine, I would have put me there. I knew those Marines inside out," he says. "I knew their families."
Now, sitting in a Dodge College meeting room filled with comfortable chairs and morning quiet, Orendain reflects on how his military life is helping him now with graduation, job interviews, moving to a new house and his wedding next year.
It's a lot all at once and as a self-described worry wart, he frets a bit about it all. But he says he's ready and knows well what it takes to keep moving forward.
(Top image courtesy of Timoteo Orendain, pictured at far right during deployment to Afghanistan.)