Want to be more creative? Step away from the smart phone, computer and social media and stay on task. That's what author and Presidential Fellow
Pico Iyer
does, restricting his Web-surfing and online research to the end of his writing day.

With that tactic, "My mind feels like it has all the time and space in the world," Iyer said during a panel discussion that was part of
INTERSTICES: An Exploration in Creativity
, a weeklong series of workshops and discussions presented by
Wilkinson College of Humanities and Social Sciences
.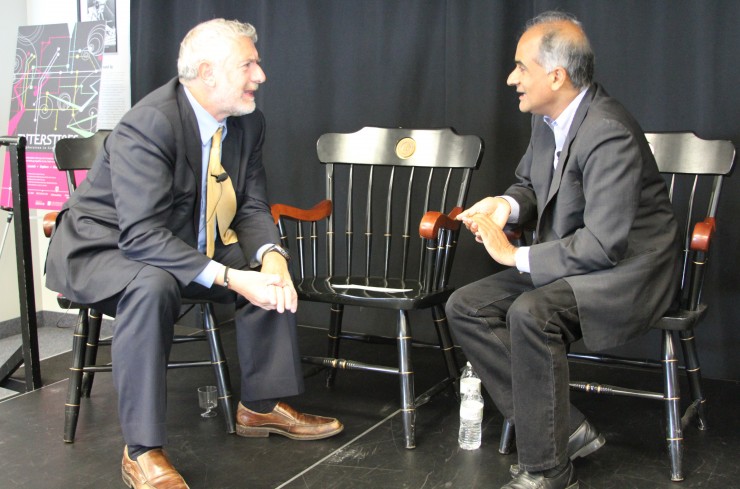 Plenty of good tips for boosting creativity were exchanged during the panel discussion. Among the suggestions: keep an idea journal, share first drafts with colleagues and read books outside your area or discipline.

A bit of idea-bouncing was even built into the event, which incorporated playful elements and put a blank "creativity map," or worksheet with open-ended questions, into the hands of each attendee. Faculty and students alike sat together working on the maps during the break. Students from a performance art class attended together and, based on their attire, arranged themselves in the spectrum of a rainbow. And Patrick Fuery, Ph.D., dean of Wilkinson College, led everyone in a guessing game as he displayed photographs of the desks of famously creative people – including Emily Dickinson, Sigmund Freud, Albert Einstein and Simone de Beauvoir.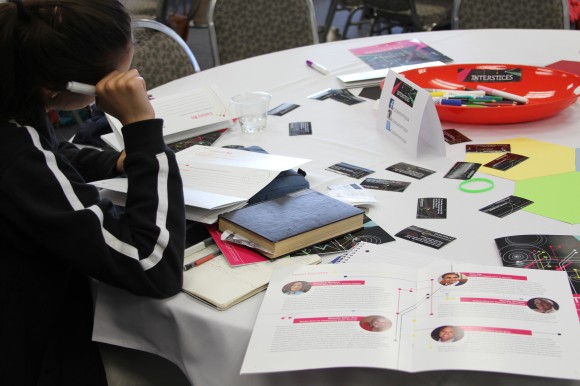 "This is fun," said creative writing major Arianne Advincula '15, who was filling her creativity map with copious notes and ideas. "I'm someone who's all about collaboration because I'm going into game writing."

But the particular thread shared by all the panelists at the Wednesday afternoon discussion was the importance of creating time for creative work.

"That may be different for a lot of people," said Jocelyn L. Buckner, Ph.D., assistant professor in the Department of Theatre and a former fundraiser and event planner. "Create the structure for yourself that's going to be most constructive."

Buckner said she likes routines and habits. Chancellor
Daniele Struppa
, an acclaimed mathematician, recounted how he uses unexpected downtime to work on equations and formulas. He even secluded himself in a tent during a bout of altitude sickness to work on a math problem that had been vexing him. Keir Pearson, the Oscar-nominated screenwriter for
Hotel Rwanda
and an Olympic rower, continually rewrites and revises works like an athlete in training.

"I just have to do it, do it, do it," Pearson said.

And it's a good idea to have a creative friend or two. The other practice universal to the panelists was bravely sharing unpolished work with trusted colleagues so as to get early feedback.

"Theatre is a team sport. Creativity is too," said Michelle Miller-Day, Ph.D., professor in the Department of Communications Studies who writes and performs in
ethnodramas
. "It's really good to have people to bounce ideas off."
To see more photos and Twitter conversation about the event (Yes, turn the smart phone back on), visit the event's Twitter account at #CUcreativity2014.