Since they entered the
Hall-Musco Conservatory of Music
four years ago as promising freshmen, their every course, rehearsal, lesson, opera performance, concert, recital, audition and even those graduate school interviews have been aiming toward this day – graduation.

Now two of Opera Chapman's most productive and promising stars are just weeks from Commencement. There's just one hitch.

"I'm not ready to leave," says Kevin Gino '14. "The days are numbered and I'm trying to enjoy them as best as I can with my class load and other things as well, but it really has been a phenomenal experience."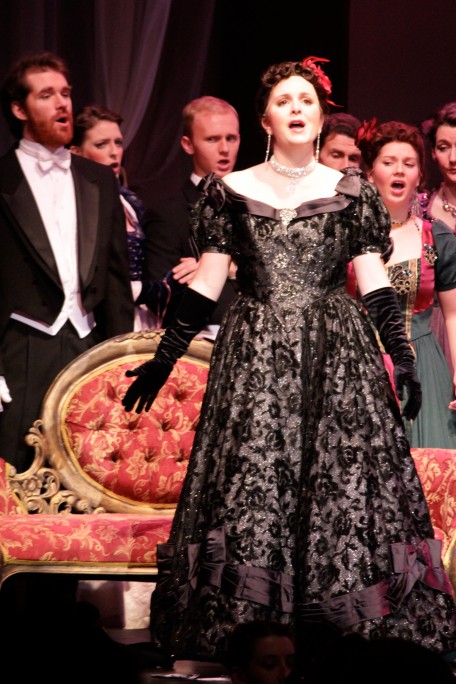 Emily Dyer '14 nods. "It has been very special," she says.

Indeed, it has.

Both students have sung major roles in Opera Chapman productions since their freshmen year. They've already made professional debuts — Gino with the Pacific Symphony as Nemorino in their Family Concert series and Dyer as a soprano soloist with the New West Symphony in Thousand Oaks. Dyer has also performed with the California Philharmonic in several productions, including as the soprano soloist in
Beethoven's Ninth Symphony
at the Walt Disney Concert Hall.

"Replacing them is really hard," says Peter Atherton, DMA, the Lineberger Endowed Chair in Music and director of Opera Chapman.

Happily, Gino and Dyer have one more opera together on the Chapman stage as undergraduates. In the
College of Performing Arts'
upcoming production of Mozart's
Marriage of Figaro,
Dyer will portray Countess Almaviva. Gino will sing the role of Don Curzio.

Don Curzio is not a typical part for a lead tenor, but there are no such parts in Figaro. Still, Gino didn't want to miss out on the final production of his senior year and was happy to play a supporting role. That's the kind of work ethic the two have demonstrated throughout their four years at Chapman, says Atherton.

"It's a combination of their God-given gifts, their determination and desire and their passion to success, and also a sense of maturity," Atherton says. "That's not really taught."

The students, however, say their success couldn't have happened without the teaching and performance environment conservatory students enjoy at Chapman. Some opera programs are famously cut-throat. But not Chapman's, Dyer says.

"There has been no encouragement of that here. Everything has been very much 'We're here to learn, we're here to learn together. You better like each other.' It's turned out great. I've really enjoyed the tone that's been set," she says.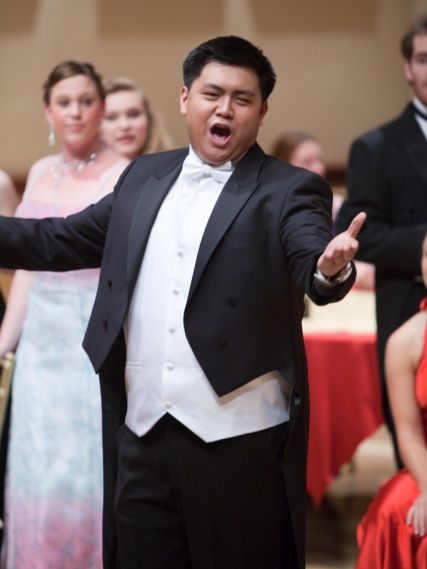 And that learning has been deep, thanks to the full operas staged by Opera Chapman and the
Chapman Orchestra
, productions that rival those at larger conservatories where most of the major parts go to graduate students.

"At schools where there are a large number of graduate students, usually the undergrads get lost in the shuffle and the most they get to do is sing in the chorus in most productions," Atherton says.

Despite their senior-year wistfulness, Atherton says Dyer and Gino are more than ready for the next step in their opera studies. Dyer will enter the Cleveland Institute of Music and Gino the San Francisco Conservatory of Music. Atherton says they have every chance of succeeding in professional careers alongside many other Opera Chapman alumni, including mezzo-soprano Erin Gonzalez '08, with the Florentine Opera Company of Milwaukee; baritone Efrain Solis '11, an Adler Fellow with the San Francisco Opera; and tenor Ben Bliss '09, with LA Opera.

But first there's one more show at Chapman for them. And thinking about those hopeful futures is what makes attending an Opera Chapman performance so fun, Atherton says. The company's post-show tradition is to appear on the lawn outside Oliphant Hall to meet and mingle with the audience. Then when opera fans see the performers in some future professional productions, Atherton says, they can truly say: "I knew them when they were just starting. There's a connection there that's really special."
The Marriage of Figaro will be performed Friday and Saturday, April 25-26, at 7:30 p.m. and Sunday, April 27, at 3 p.m. in Memorial Hall. Tickets are $20 general admission; $15 senior citizens, alumni and non-Chapman students; and $10 for students, faculty and staff with university ID. For tickets, call 714-997-6812 or visit www.chapman.edu/copa.