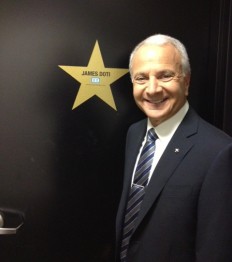 President Jim Doti filmed a guest role on CBS's hit daytime drama
The Bold and the Beautiful
(B&B) Wednesday.  He was invited by show producer and proud Chapman University alumnus Casey Kasprzyk '01 to do the speaking role (he has four lines).

Casey started out at CBS with an internship opportunity through  Chapman, and has been part of B&B's three-time Emmy Award-winning production staff ever since.

President Doti's episode will air on May 7 — watch
The Bold and the Beautiful
weekdays at 1:30 p.m. ET, 12:30 p.m. PT on CBS.