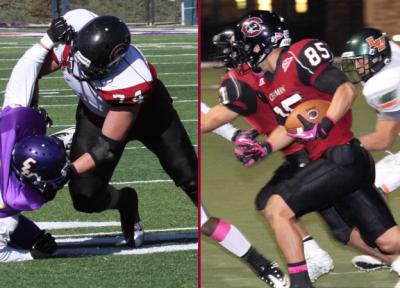 Chapman University seniors
D.J. Brandel
and
Kali'i Kunitomo
have been selected to participate in the
All-American Bowl at the Metrodome
in Minneapolis, Minn. on Saturday, Dec. 22. The two will wear Stripes in the Stars and Stripes Game, kicking off a 2 p.m. local time. It is the second of three All-American games hosted by the Metrodome that day.

Brandel and Kunitomo are the first two Chapman seniors selected to play in the bowl game in the 17 years since the All-American Bowl began honoring Division II, III, JUCO and minor league football players in 1996. They are the first two Chapman players since Patrick Josten in 2005 (Las Vegas All-American Classic) to be invited to compete in an all-star bowl game.

The All-American Bowl was founded in 1996 to give athletes the opportunity to compete against the best at their level in an all-star game setting. The first All-American Bowl was played in Minnesota and has since been played at various cities across the country including Atlanta, Miami and Las Vegas. The All-American Bowl has several types of games for different levels of competition that include: DII, DIII, JUCO, Minor League Football, Free Agent, and High School. The participants in the All-American Bowls have been nominated for their outstanding performances throughout their season.

Read more at the
Athletics website
.