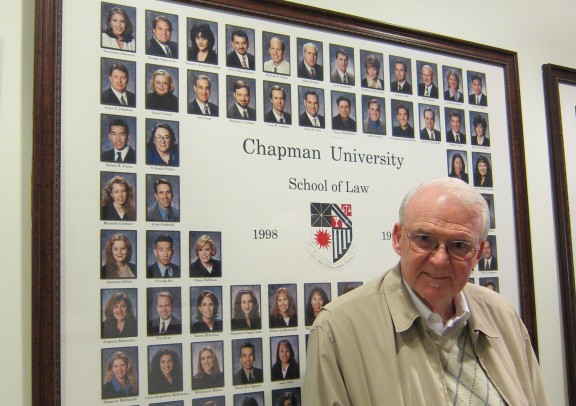 Law alumnus William 'Bill' Cathcart ('99) has been selected as the 2012 Orange Chamber of Commerce Citizen of the Year.

"I am surprised and speechless, which does not happen very often," Cathcart said as he accepted the award at the chamber's recent State of the City luncheon, where the award was presented.

Cathcart was nominated by the Orange Senior Center because of his dedication to the center over the past 23 years.  Senior Center Executive Director Tom Maldonado said Cathcart "has been instrumental in the success of the organization.  Bill founded and led the funding of the OSC Endowment Fund.  He chaired and directed numerous fundraising events, raising huge amounts of money for the Orange Senior Center."

Cathcart is a long-time friend of Chapman University and as a landscape architect helped create many of the signature landscape designs on campus. He uses his law degree to serve as an expert witness in suits related to construction design defects.

Currently Cathcart sits on the Planning Commission for the City of Orange,  is a member of the Kiwanis Club of Orange and BPOE Elks Lodge 1475.  He also previously served as president of the Orange Chamber of Commerce in 1988, the Old Towne Parking Steering Committee, Old Towne Steering Committee, Chapman University Athletic Foundation, Orange Street Fair, Leukemia Society of Orange County, Good Shepherd Lutheran Home, and more.