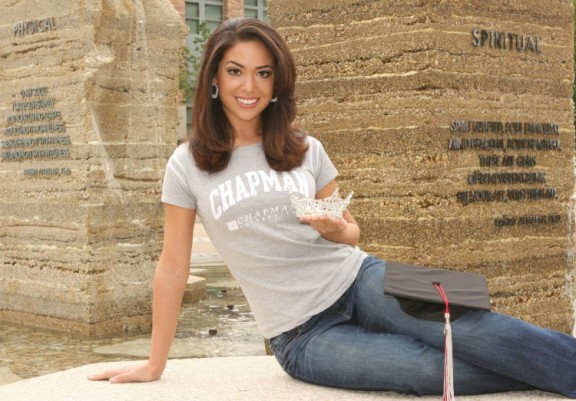 Chapman University fans can give a boost of Panther Pride to their own Miss California Noelle Freeman '11, communications studies/advertising public relations, who's off to Las Vegas this week to compete for the Miss America crown.
The Miss America Organization is offering the public an opportunity to view videos of the candidates and vote online or via Facebook in the "America's Choice!" fan favorite competition. Both sites lead to the contestants' videos, in which they make a pitch for why they would be the best choice for Miss America. The contestant receiving the most votes will be named one of the pageant finalists. Voting closes at 11:59 p.m. PST on Jan. 12.
A busy competition week lies ahead, but Freeman promises to post updates about the experience as often as possible on her blog and via Twitter.
The pageant airs on ABC Jan. 14 at 6 p.m. PST.
Freeman was crowned Miss California in June at the state competition, where she bested 59 other contestants — including six other Chapman students.  Four of the pageant's top 12 were current Chapman students.