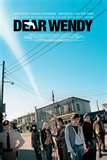 Today's Faculty Forum will feature Angela Tumini, Ph.D., Assistant Professor of Italian Studies, speaking on "Let's Kill the Moonlight in Electric Park: A Futuristic Interpretation of Lars  von Trier and Thomas Vinterberg's
Dear Wendy
." 
Faculty Forums are scheduled in conjunction with the delicious faculty/staff lunches prepared by Sodexo, and you can't beat the price of an "all you can eat" buffet for $5.  The lunch buffet opens at 11:30 a.m. and the presentation follows shortly after. Or bring your own brown bag lunch!
To see who's scheduled for upcoming Faculty Forums, check out the schedule in
our recent post
.