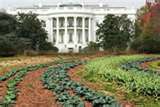 Where did you go for lunch today?
C'mon. We know Friday is unofficial lunch out day for a lot of folks. So here's this week's timely green tip from the Faculty Environmental Committee – support organic farmers and businesses by dining out green whenever possible.
The committee even provided this
link
to the Green Guide Network, which lists Orange County restaurants using organic, local ingredients. Rutabegorz, one of our Old Towne green restaurants, made the list.
And where do you go when you want a healthy lunch? Post your favorites here at Happenings. We're hungry!