Eileen Kim knew her purpose in life from a young age. The 22-year-old Chapman University alumna, who graduated with a degree in business administration from the Argyros School of Business and Economics, has been talking about a career in international law almost since kindergarten. "I grew up speaking three different languages, and I grew up with these cultures. That was an experience I can leverage on behalf of either the United States or the United Nations."
So how did it come about that a young woman with a passion for international justice was awarded the title of Miss California 2019, and will be competing for the title of Miss America in December? 
"It's funny, because I talked about this with some of my friends," she says, describing her shy and introverted tendencies throughout high school. "Nobody ever thought I would become involved with this type of organization." Kim's focus was academics, along with classical violin, which she has played since she was three years old.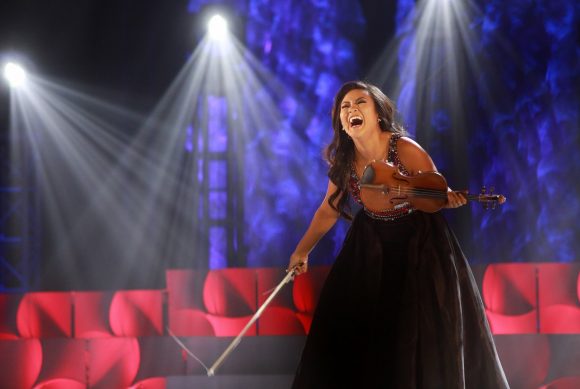 But when a close friend won the title of Miss Minnesota in 2013, Kim's eyes were opened to new possibilities. "She was just the epitome of the type of woman that I wanted to be," says Kim. "Talented and beautiful and intelligent. And that's what I wanted to be. And that's who I wanted to be as a role model for others."
Challenging Expectations
Kim knows she doesn't look like most who've won the title. Only a few Asian Americas have worn the state crown — and even fewer have gone on to win the title of Miss America. But she sees this as an opportunity, not an obstacle. 
As a young adult, she struggled with the package of labels and stereotypes that go along with being an East Asian woman. "No matter the accomplishments that I had," she said in a 2017 TEDx Talk, "I attributed them all to the fact that I was a woman, or that I was Asian, or any sort of label that people had (placed) on me."
The pressure to meet those expectations and present herself as a "model minority" led Kim to an eating disorder and self-harm. It wasn't until she went to college and started participating in pageants that Kim learned how to define herself apart from those imposed stereotypes. While she values the struggles she went through when she was younger, she understands the importance of representing Asian Americans in different ways, and providing an example of success that isn't bound by cultural labels.
She's already witnessed the effects of positive representation first hand. Within five minutes of exiting the stage after being crowned, Kim was approached by an 8-year-old girl. "She came up to me and said, 'Somebody that looks like me just won Miss California. Now I think I can become Miss California.' … That's really something I want to show others, that it really doesn't matter what you look like, it doesn't matter what your traditions in your cultures are. It's about the person that you've become, and how you can use that and your experiences to leverage yourself to be a positive role model and be that positive impact on the world."
The Road to Miss California
If Kim has one thing to teach from her pageant experience, it's to never give up on your goals. Kim participated in her first local pageant in 2015, winning the title of Miss Beach Cities. That year, she made the top 15 in the Miss California pageant. The next year, as Miss Orange County, she made the top seven, as well as winning the award for overall talent. But in her third year, as the representative of the City of Orange, she didn't make it to the finals at all. Kim went home, took the LSAT and started filling out applications for law school. 
But soon she realized that she wasn't ready to call it quits. "I knew, after I had done some self-evaluation, that I wasn't just there for the crown and sash. I really was there to work, and to be somebody who could make a difference in our community."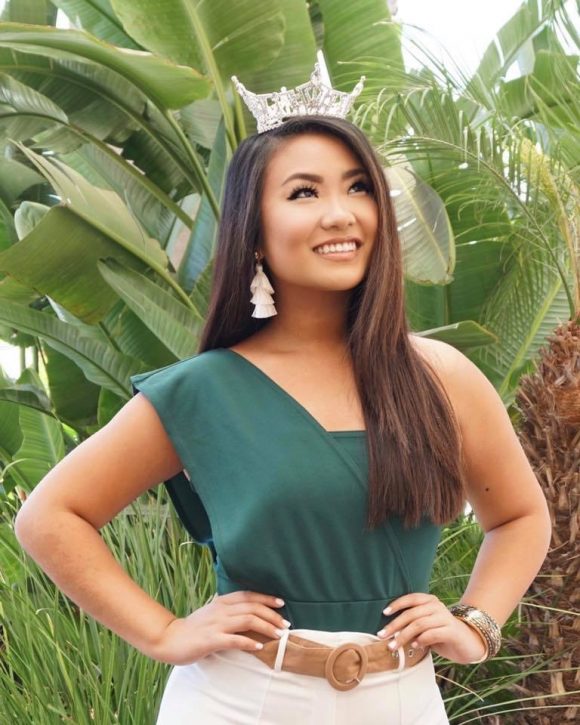 As a mental health advocate, Kim wanted a bigger platform to achieve her goals. Her success on the local level has already led to partnerships with Mental Health America and state and local legislators. "Having something sparkly on your head kind of makes people listen," she says with a laugh, though she's completely serious when she talks about her goal of bringing mental health education to schools statewide. "I think society is placing more expectations on the younger generations. But we aren't giving them a coping mechanism," she says. 
"Having something sparkly on your head kind of makes people listen."
Determined to make a difference, Kim competed for and won the Miss Culver City pageant in February, and in June — proving that it's the fourth time that's the charm — won the title of Miss California. Only weeks into the job, she's already seen the potential of a larger platform, with opportunities for partnerships with organizations like Drug Free World and even a possible invitation to speak at an upcoming United Nations conference.
In December, Kim will compete for the title of Miss America 2020 — a title no Miss California has won in more than 35 years. 
Right for the Job
In recent years, the Miss America Organization (MAO) has struggled in the face of fierce media criticism. Now rebranded as "Miss America 2.0," it no longer sees itself as a beauty pageant or even a scholarship competition, but the world's most public job interview. Their website makes it clear that being Miss America is not just about smiling and waving: 
"Miss America will work with the MAO team to develop goals and execute on tactics to advance her chosen Social Impact Initiative, setting metrics and developing partnerships which will show positive results at the end of her year…"
Since the new pageant guidelines prioritize essential business skills over the traditional beauty standards, Kim thinks she's an ideal candidate for the job. Her experience building relationships with sponsors and in support of her platform are exactly what judges are looking for. "If those judges can fall in love with you within those 10 minutes, and you can convey who you are, you can do that anywhere else," says Kim.
The Chapman Advantage
Kim is not the first Chapman alumna to win the Miss California crown. Chapman has always had a strong presence in the state pageant, and in 2011 Noelle Freeman '11 took home the crown. Nicole Reynard '17 won the Miss Washington title in 2017. The support of fellow Chapman competitors and winners has encouraged Kim throughout her pageant experience. In fact, she's been approached by other pageant contestants, wondering how they can build the same network of support among their own campus communities. 
"Chapman has been so embracing of what the Miss America organization really provides for women," she says. "The reason why I came to Chapman was because, the moment when you walk on campus, you see it's kind of hustling and bustling. When I was here, it was impossible to walk across campus without saying hi to at least five people. And really, it fosters that idea of warmth. I like to think that it helped me become Miss California because I wasn't just there to win. I wasn't just a hard-hitting competition girl. I embraced everybody and was just equally as warm. And I think fostering those Chapman ideals in going to that competition is really what won them over."