Chapman employees will get a different experience when Human Resources launches its revamped Staff Summit program. Staff Summit has been reimagined by HR's learning and development team into a week-long program focusing on professional and personal development, networking, and staff appreciation events.
Professional Development, Networking and Appreciation
"While most of the staples of this event are very much in place, we have been intentional in adding a professional development focus," says Anali Makoui, Staff Summit co-chair and director of learning and development. "We have worked hard to create a lot of fun networking opportunities, and to create a platform where our staff can learn about each other's initiatives as well as about units with which they may not usually interact."
"HR at Chapman is evolving," says Brian K. Powell, vice president and chief human resources officer. "A refocused Staff Summit is our first step in HR's maturity. This year's event allows us to not only celebrate staff contributions to Chapman but also provide learning and development opportunities for our colleagues. This, then, reflects the beginning of a multiyear commitment to ongoing career management and professional development that is at the heart of your Chapman Experience feedback and also underscores my emphasis on realizing a positive employee experience for our talented staff. Chapman's employee commitment is to create an environment where employees can engage, achieve, and belong…a fitting message and promise that renews both Staff Summit and HR for years to come."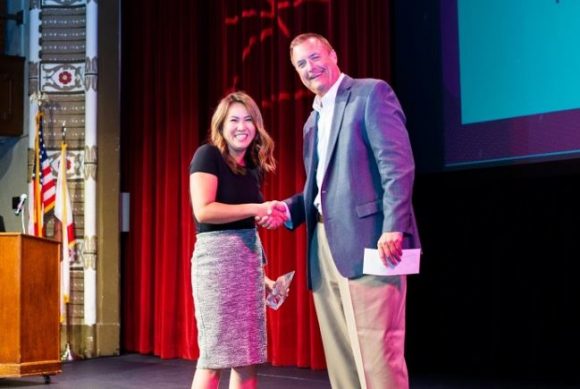 What are HR staff members most excited about for this year's Staff Summit?
"Everything! The keynote speaker, the workshops, the Zorb ball race, the Staff Appreciation Award Ceremony, the Staff Art Exhibit, the Rinker tour … seriously, everything," says Dr. Makoui, "I genuinely want to participate in every single event (including sitting inside the Splash Tank)."
Here are some tips to get the most out of Staff Summit this year:
Check the website—especially right before you attend an event. Information and locations will be continuously updated.
Bring your cellphone to Monday's welcome event, and download two apps to use during the week: Kahoot, for Monday's networking event and Ava, for live subtitles for any conversation.
Remember, you must be present with your Chapman ID to pick up your T-shirt. One t-shirt per person.
Remember, priority will be given to those who registered in advance. All others will be put on a waiting list and will be asked it wait until we determine space availability.
Bring your business card to all events, and be open to networking with new colleagues.
The seating for the Kick-off Welcome Brunch will be assigned.
Wear appropriate attire for your professional head shot and a more casual outfit for the fun and games.
Don't forget sunscreen and a hat.
You will have the opportunity to fill out "Paws for Applause" thank-you cards during the Kick-off Welcome Brunch on Monday and the Staff Appreciation Award Ceremony on Thursday. You can also use the online thank-you card form, which opens on Monday, June 3. HR will ensure safe delivery.
Take advantage of the shuttle service as you visit the Rinker campus for workshops and tours.
Display Image/Chapman staff enjoy opening brunch at last year's summit.